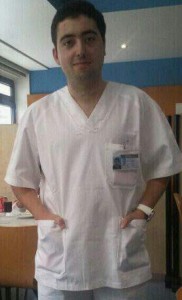 Hi, and welcome to my web.
My name is Carlos Andina, nurse and are in addition,, currently I am a student of Masters in Gerontology at the University of Santiago de Compostela, and if by itself is not enough with the Master, estou ademáis en plena preparación do examen EIR 2017.
Creo que a miña carreira se orientará máis hacia as persoas maiores, pero, desde logo, non me pecho portas. A experiencia que tiven ata o de agora coa xente maior foi o que máis me emocionou, son tremendamente agradecidos por norma xeral, e penso que necesitan de xente que conoza ben as súas particularidades como persoas e pacientes. Outro campo que descubrín que me podía gustar é a Saúde Mental, e creo que hacia estas dúas áreas se pode orientar unha posible praza de Enfermeiro Residente (hai que pensar en conseguila, motivación ante todo!)
I chose my career because I attracted the care of in all its forms, gustábame tamén o traballo sanitario, o ambiente hospitalario e dos centros de saúde, e considero que nacín para traballar no campo da sanidade e para iso e para o que quero prepararme o mellor posible.
In the time I've been able to work in a hospital, and in Primary Care, I saw that it is a very beautiful profession, even sacrificed, and also exciting, events such as the birth of a person, improving a patient who did you get to see very badly, or even, death, make you see different moments in life differently than many people, e tamén diversas formas de afrontar as alegrías e as adversidades que ten cada persoa coa que te atopas na túa práctica diaria.
I know beginnings are allways hard, but I hope that it will be easier as the time past, e espero que cando me xubile poida decir que fixen todo o que estivo nas miñas mans para axudar á xente que tiven ao cargo.
Outside my field of study, I love sports, os videoxogos, movies and TV series, and music.
It is health that is real wealth, and not pieces of gold and silver.
Mahatma Gandhi